Empty ejection means that a stripper bar or stripper plate needs to be ejected empty for a distance before the product can continue to eject. Since the ejector pin and empty ejection must hold the product at the same time to eject, the mold with empty ejection must do two sets of ejector plate to offset the empty ejection distance in order to achieve the purpose of synchronizing the ejection.
As shown in figure 1, the product does half sliders on both sides, in order to ensure a good appearance, the product chooses to be parted from the inside of the bottom, resulting in the around the stripper bar or stripper plate must be ejected empty, in order to be ejected with the ejector sleeve.
This method has no limitations and can be used in many cases where ejector pin, square ejection, etc. all require a time-lapse ejection, or where the mold needs to be empty ejected for a distance and then eject together, etc., the structure is simple, safe and reliable.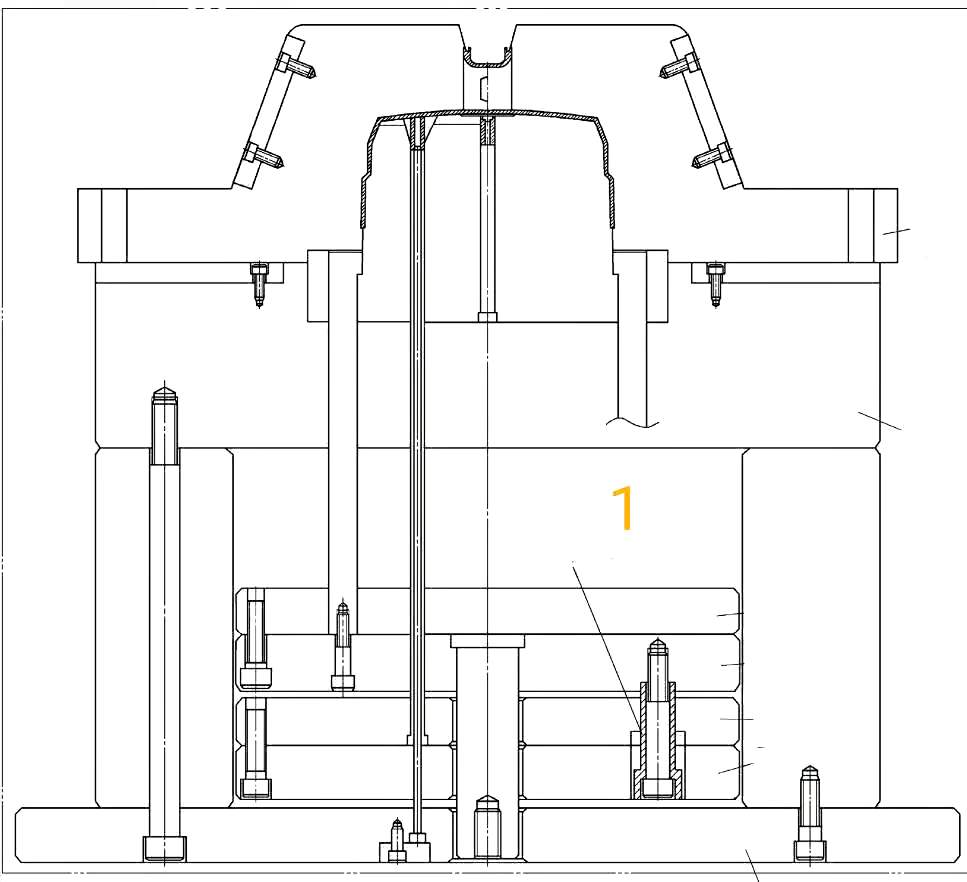 Principles:
1. Knock-out actuate ejector retainer plate, when the ejector retainer moves to a preset distance, the limit pin with the ejector base plate together to be ejected.
2. Before shutoff, forced pullback drives the ejector retainer plate return, and when the return is at a certain distance, the ejector retainer plate takes the ejector base plate return.
Design specifications:
1. This structure should do two groups of ejector plates, empty ejection part is designed on the upper group ejector plate, and others do not need the empty ejection part (e.g. ejector pin, ejector sleeve) to be designed on the down group of ejector plate, as shown in figure 1.
2. The limit stroke between the two ejector plates is exactly the same distance between the empty top surface and the product surface.
3. For ensuring the balance and accuracy, make the limit pin shown in figure 1 between the two groups of ejector plates, and try not to replace it with a plug screw.
4. Each group of ejector plates should have a separate return pin, if the mold space is limited, can not do two groups of return pin, then can consider of doing the return pin on the upper group ejector plate, but must do the ejector guide bush.