Mold elastic parts generally refer to parts with elastic functions, such as springs, PU, nitrogen gas springs, etc. The functions of these parts are similar, and they all use the feature of free expansion and contraction under the action of external force, but because of their different performances, so the application is different.
The spring used in the mold mainly refers to the coil spring, according to different cross-sectional shapes, coil springs can be divided into flat linear coil springs and round linear coil springs. Since the round wire coil spring can only provide a small elastic force, the flat wire coil spring is more used in the mold.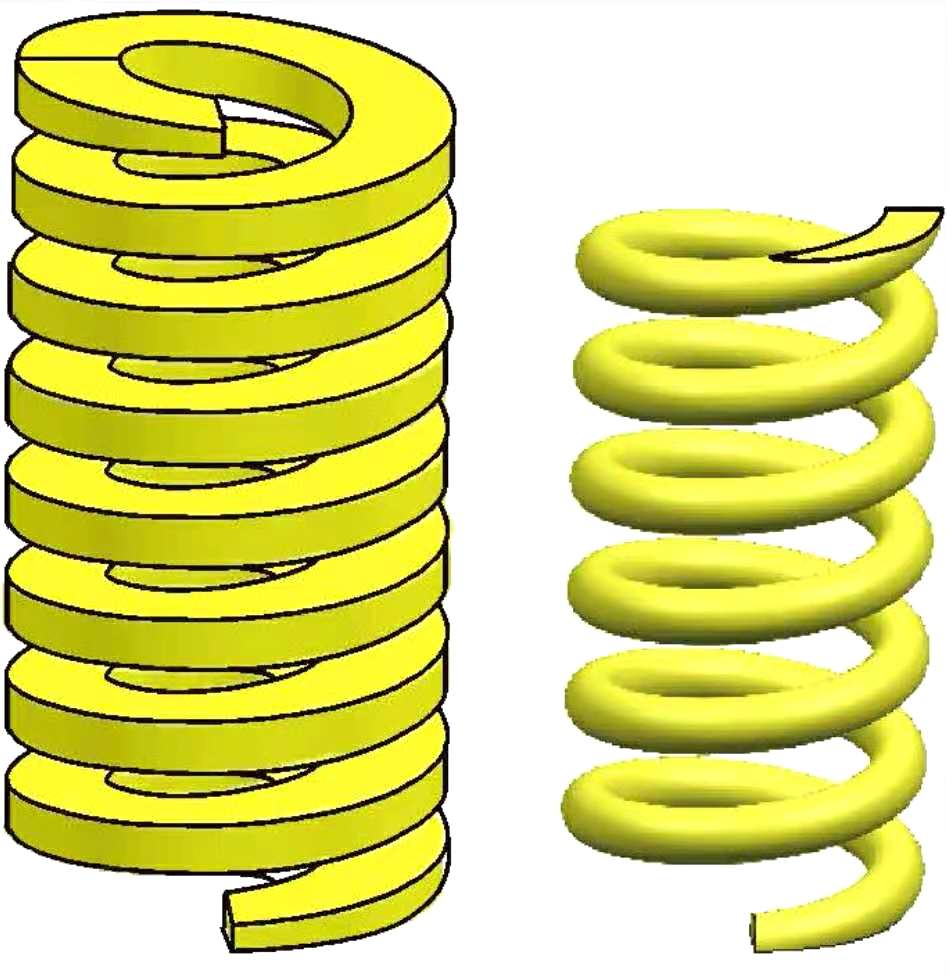 According to different compression, flat wire coil springs can be divided into super compression, high compression, medium compression, light, and small load, light load, medium load, heavy load, overweight load, etc. The greater the compression, the smaller the elasticity that can be provided.
These three types of springs, super compression, high compression, and medium compression, are generally not used in the mold because the elastic force provided is too small. There are three types commonly used in molds: light load, light load, and medium load.
In order to facilitate the distinction, different colors are used to indicate springs with different compressions in actual applications.

The force provided by the spring is a flexible force. As the compression of the spring increases gradually, the initial force differs greatly from the force in the compressed state.
Application situation: reset of thimble plate, auxiliary mold opening, slider limit, etc.
Selection criteria: When the mold is completely closed, the spring has two different states due to the different positions used.
Pre-compression state: refers to the state of spring pre-compression, which is common in the return spring of the thimble plate.
Compressed state: refers to the state in which the spring is compressed to the required stroke, which is common in the auxiliary sliding limit spring.
When selecting a spring for mold design, the only criterion is whether the elastic force of the spring can ensure the smooth production of the mold. The most used in the mold, the most important thing to pay attention to is the thimble plate return spring and the sliding block limit spring. When the spring is used as an auxiliary mold opening, there are not too many restrictions.
In order to ensure that the thimble plate can be reset smoothly, the elastic force of the return spring in the preloaded state should be greater than 2.5 times of the thimble plate's own weight.
When the sliding block uses a spring limit, the sky-side sliding block should be taken from 2 to 2.5 times its own weight. For other directions, the elastic force of the spring preload state is not less than the sliding block's own weight.